Video content is a great way to connect with your audience! Here are some tips on how to use it effectively.
With content marketing taking over the internet – video was more important than ever in 2022.
Check out some of the top ways you can use video in your business below:
1. Explainer videos
Explainer videos are short online marketing videos used to explain your company's product or service. Explainer videos are often placed on a landing page, your website's home page, or the main product page.
These videos have become extremely popular – some sites boast of conversion rates increasing by as much as 144% after including an explainer video on their website.
Types of explainer videos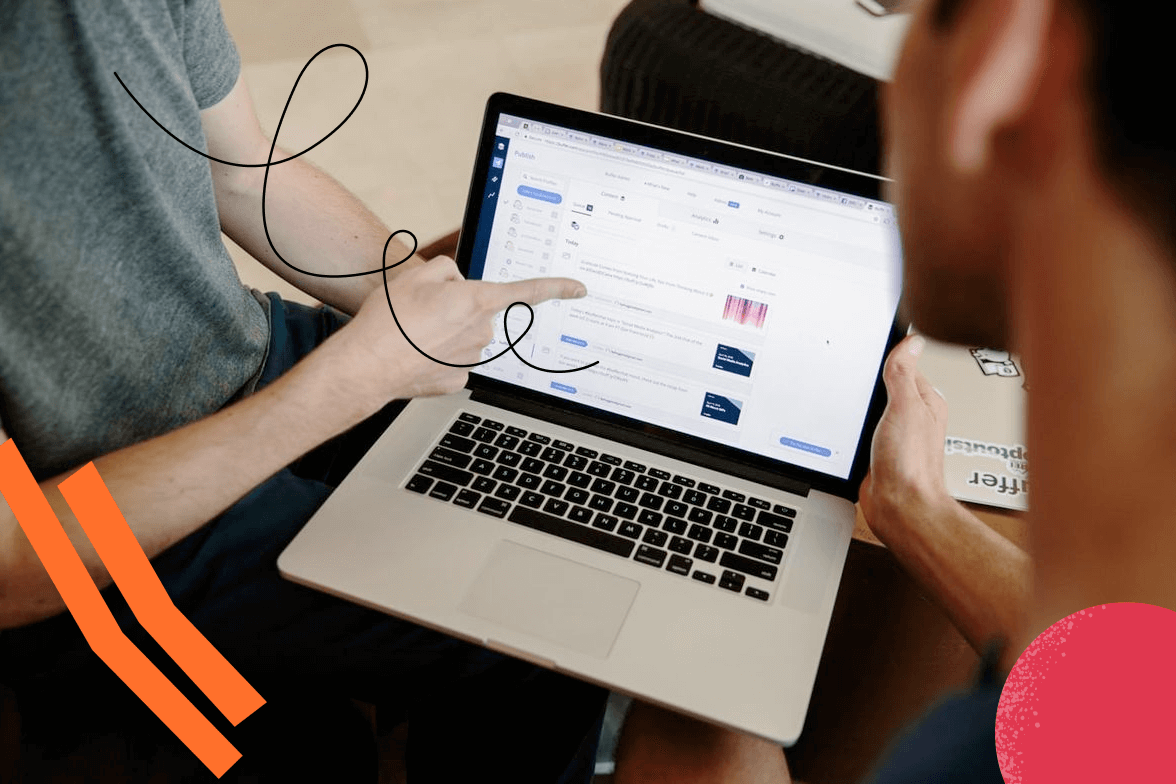 Live-Action Explainer Videos:

A non-animated promotional video explaining your business's product or service.

Examples include the Dollar Shave Club and PooPourri videos (see below). Live-action explainer videos are usually best for companies selling

physical products or people-oriented services

, such as restaurants or consulting groups. Having flesh-and-blood people in your explainer video can create an emotional connection for viewers, as we are naturally drawn to other human faces.

Live streams on Social Media:

These are pretty much the same as live-action videos but without the ability to edit. This is a bit scary, but having raw footage—mistakes. You do have the option to save your videos to your account after the video is complete. Here's how to go live on YouTube, Facebook, and Instagram.

Animated Explainer Videos:

The most popular type of explainer video, animation is often the preferred format for explaining services or intangible tech products like software. Animated explainer videos allow for more creativity and are easier to edit or update when you want to make future adjustments. Some services involve few, if any, physical objects, making live-action an unrealistic option.

Whiteboard Explainer Videos:

A whiteboard video is an explainer video in which animation is hand-drawn and erased on a whiteboard. This video format has become popular due to its ease of operation and low cost, making it one of the cheapest types of explainer videos to create.
2. Social Media Marketing Videos
Social media video marketing combines two powerful approaches. First, video marketing is a noted strategy designed by marketing specialists to create and curate video content to market goods or services to your target audience.
Social video marketing is a component of an integrated marketing communications plan designed to increase audience engagement through social activity around a given video.
In a successful social video marketing campaign, the content, distribution strategy, and consumer self-expression tools combine to allow individuals to "add their voice" or co-create value to a piece of content and then further disseminate it to their social acquaintances.
Social video typically benefits from a halo effect cast by the "influencers" of a social grouping. Social video marketing draws on consumer-culture theory, economic theory, and social theory around the psychology of sharing. Social video marketing differs from social marketing, which intends to influence behavior for social good.
Why Video is Important in Social Media Marketing?
Video marketing on social media is essential because it helps capture attention, allows for remarketing based on previous viewing thresholds, and is more cost-effective.
Three Reasons Video Marketing Is Important On Social Media:
Capture attention quickly

Optimize ad spend

Retarget viewers by viewing thresholds
3. Longer Sales Videos
Sales and marketing are two business approaches that every company and brand needs. The sales video is what helps to sell and promote your product. A marketing video is quite different; it creates the whole branding process.
Eventually, there are many types of videos and content for each approach. Each video is the best thing to show the client who you are and what your company produces. It makes it the possibility to build trusting and long-lasting relationships.
So, let's put it this way: marketing videos are what help to befriend a client and make him believe in your company and product. The sales video is what tells clients what you can offer them.
4. Training Or Onboarding Videos(For clients or employees)
Video onboarding is an engaging and effective way for you to welcome new employees, introduce them to your company culture, and help integrate them into the team quickly and efficiently.
Onboarding plays an essential role in improving an employee's overall experience with a new organization. It helps them adjust to their new job's social and performance aspects to become key contributing members of an organization quickly.
Research shows that a vital employee onboarding process improves both retention and productivity for your new hires.
Investing in good employee onboarding is critical to the success of new employees. And many companies are now using video onboarding methods to polish their traditional onboarding processes and efficiently onboard new hires.
According to a study, video is a powerful onboarding tool that can provide a convenient and familiar experience for new hires.
5. Internal Company Videos
Internal videos help to connect employees from different time zones (95%), increase brand awareness (93%), and empower employees to share knowledge (93%). In addition, HR and recruitment can use the videos when hiring or onboarding staff!
Using video to communicate with employees will also help you with these:
employee training and instruction

conveying missions

creating announcements that are to be heard by everyone

explaining working protocols

transmitting the values of the company
However, the benefits of internal video communications are not limited by the abovementioned. The article will give you more valuable insights into how videos can boost your communication and exemplify ideas.
Why Does Your Company Need it?
If you have never used videos in your internal communications, you probably don't understand why you should start using them now. We've prepared 5 top reasons that help you catch the main idea of video communications.
Visuals help to explain complex things

Videos are great for worldwide communication

They are impactful

They are emotional

They build brand loyalty
6. Videos For Crowdfunding
Projects without a video have only 30%, while simply adding video projects increases to 50% success rate. Not to mention, crowdfunding is an excellent tool for all industries, including Startups.
Crowdfunding is raising small amounts of money from a large number of people to fund a project or business venture. Crowdfunding has become even more manageable as new crowdfunding platforms have grown and developed over the past decade.
15 reasons why a great crowdfunding video should be the centerpiece of your campaign's overall marketing strategy.
They increase your campaign success

They increase sales

They help you get found on search engines

They simplify complex concepts

They show off your campaign's brand, style, and personality

They pack a punch

They increase conversion rates

They're entertaining and engaging

They're versatile

They produce high retention rates

A crowdfunding video builds trust

They encourage social shares and campaign support

They can reach targeted audiences

They can drive great return on investment (ROI)

Video performance is easy to track
7. Short Ads For Video Advertising
Short-form video ads are video clips, most often 5–16 seconds long, that businesses use for promotion. Short video ads are much cheaper to make than their long-form counterparts but are equally, if not more effective.
These advertisements come in many different video ad formats, such as:
Instream ads

(pre-, mid-, or post-roll ads that play at different points of an online video clip)

Outstream ads

(video ads that usually appear while the user is scrolling through content on a web page)

Mobile ads

(a common mobile advertising practice for many free versions of mobile apps is to require users to watch a short video ad before being able to use a particular feature)
Video-sharing websites like YouTube and online media sites like using these short video ads before their content for two reasons:
Users cannot skip them

.

They don't negatively impact user experience.
With the above in mind, it should be clear why short video ads are the go-to advertising choice for many!
8. Email Drip Campaign Videos
Using video in email effectively means you need to have a plan. There are different types of videos you can create depending on the goal of your campaign.
The most common types of videos that email marketers use are those that:
Promote your brand

Invite subscribers to your event

Feature case studies or testimonials

Offer tutorials or learning experiences

Demo a product or service
There are a few approaches you can take to creating videos. You can hire a professional or freelancer to put together videos that suit your marketing goals, or you can record them on your own if you have some essential video editing experience.
Online tools make it easy to create videos that don't feature people, like slideshow videos.
Once you've settled on the type you want to create, you need to know how you're going to promote it. You have three options for using video in email:
Embed in the email:

This is an option if your subscribers use specific email clients, but it's not the best method if you want the most views.

Host on a landing page

: If you want to drive traffic to your website, host the video on a landing page and direct your subscribers to that link.

Upload to a digital platform:

Popular video platforms like YouTube are a practical solution for businesses that want to share information or don't need a landing page.
When you know where you want to upload the video, you'll be ready to start creating the content. It's a good idea to decide this first, so you know how long your video should be.
The 5 most compelling videos in email examples
Use your email subject line to highlight the video

Recount famous moments from your recent event

Do an annual review of something unique to your brand

Send a personalized holiday greeting

Include a tutorial to your service for new subscribers
9. How-to And Informative Videos
Video is becoming the content of the future. Due to this, there are a whole bunch of videos out there.
You want viewers to be interested, engaged, and informed even if you're hosting videos on your website (with no competition on that platform). You need your company's video to stand out in the crowd.
Decide on the target audience, goal, topic, and takeaways of the video

Write a script your audience will want to follow

Make sure the introduction stands out

Focus on storytelling

Use a conversational tone

Read it out loud before recording

Include a clear call to action

Give options for contact information

Say thank you at the end of the video
10. Promotions and Sales Efforts(videos for various)
A promotional video or promo video is a video used to promote a specific marketing initiative, sale, or event. Promos are often similar in style and tone to a teaser video, where you grab your audience's attention and draw them in to learn more.
What is the purpose of a promotional video?
Promotional videos are typically short films that succinctly showcase your brand and are both informative and entertaining. The main aim of a promo video is to generate interest and inquiries from your target audience.
"If a picture is worth a thousand words, then a video is worth 1.8 million [in just a minute of footage]", James McQuivey concludes in his book 'How Video Will Take Over the World.
' Video brings many forms of communication together – sound, pictures, words – making its potential usefulness as a medium for sharing information almost infinite.
11. Tutorial Screencast Demo Videos
A digital video recording of your computer screen usually includes audio narration.
– It is also called screen capture video or screen recording.
– It showcases a company's value proposition and helps customers understand why they would benefit from the product or service.
Product demo videos are a surefire way to capture your viewers' attention and get them excited about what you're selling.
A product demo video is created to showcase your company's offering. These videos are often used by B2-B marketers to present their products in the most favorable light possible.
12. Case Study Videos
A case study video is a piece of persuasive content that businesses use to illustrate the value of their products or services by telling real customer success stories. It's a customer testimonial video that adds authenticity to your marketing efforts.
Successful case study videos:
Include on-camera interviews with customers

Show how your business solves a specific customer problem

Use stats and figures to back up the customer's story

Focus on the benefits, not the features
Case study videos can benefit your business by raising awareness about what you do and attracting new customers.
13. Powerful Testimonial Videos (That Build Credibility and Trust)
Customer testimonial videos are the most potent way businesses can collect and share reviews. These videos help companies build trust and credibility and quickly turn viewers into buyers. Companies can get their customers to share their experiences with their prospects with a far more reliable appeal.
A customer testimonial video is simply a happy user of a product or service sharing their experience with a brand through a video.
Why Do You Need Customer Testimonial Videos? Testimonial videos build trust and credibility
Customer testimonial videos are a surefire way to sell and win new customers. They get your existing customers to praise your brand and reach a more profound trust with viewers.
People trust people. It is no secret that when it comes to buying, we are all influenced by the opinions of others. Nielsen reports that 92% of consumers trust a brand someone has recommended, even when it is a stranger.
And testimonial videos amplify that. This is simply because these videos act as social proof that reinforces people's beliefs about a brand.
The critical aspect to note is that customers agree to show their faces in the video–which helps your brand better convince potential customers and get them to buy.
14. About Us videos(company mission and vision)
An 'about us' video (sometimes called a company culture video) gives you the freedom to communicate these things without resorting to dry copy or awkward-looking still photos.
It's the best way to capture the life and spirit of your team authentically and honestly. Most importantly, it makes it easy for leads to relate to you — and like you.
Let's take a look at what makes them so effective at building likeability in the first place.
A great about us video should tick off these criteria:
IT HAS AN EMOTIONAL CORE.

IT HUMANISES YOUR BRAND (LITERALLY).

IT EXPLAINS WHY YOUR BUSINESS EXISTS.

IT BUILDS TRUST.

IT GIVES A GLIMPSE BEHIND THE SCENES.

Employee Recruiting Videos
About Us, videos are a fantastic asset to a company because it allows the world to get a 'feel' for what it'll be like to work there. It provides a visual representation of what it's like to work at your company, enticing them to apply.
A good
About Us video
should:
1 – Be a window into your company
2 – Give an introduction to your business
3 – Clearly outline your company's values
4 – Be employee-focused, and give details of your team
5 – Be engaging & inspirational
15. Before and After Videos
Are you in the business of improving the way things look? Before and after videos can be one of the best ways to promote yourself and show off your work to prospective clients.
When you only show photos and videos of the final product, you only tell one side of the story. Showing what something looked like before and then what you accomplished will make the results more impressive.
This technique works well for showcasing products and services for humans as well! Makeup artist Lilly Rivera tells us that "before and after videos of clients' beauty transformation is a big marketing tool, and it turns video views into contracts." She gets more exposure and word-of-mouth interest that turns into sales by sharing before and after videos.
It's quick and easy:
Remember to take photos and/or videos

before

you start your job.

Take photos and/or videos

after

you finish your job.

Select your favorite video template, or start from scratch.

Upload your before and after photos and videos.

Drag and drop your media into your project.

Customize as desired – you can edit the text, layout, themes, design settings, etc.

Please select a track from our music library, or upload your own.

Export your video.
Once your video is done, share it with prospective and current customers on your website and social media.
16. Tips and trick videos
Video marketing is the new "big thing" for marketing your business.
Video is a powerful tool to help your business spread brand awareness, and it should sit right at the top of your marketing funnel. In a world where information comes at us fast and furious like a Vin Diesel movie, what's better than a short and engaging video?
17. holiday corporate videos
The idea of holidays corporate videos is simple: It is to get into the spirit of the holidays, which revolves around giving. Instead of showcasing your products and services, you should spotlight the people behind your success. This can be about your customers or employees or significant events over the year.
The most crucial thing about holiday videos is to make them less about your company while indirectly improving brand awareness at the same time.
18. Thank you, videos(For when customers take your desired actions)
Creating a thank you video is a powerful way to show your subscribers how much they mean to you. The most important thing is to be authentic; think about what you would say if you were talking to your audience directly, and take a few moments to get it on camera. Your customers and supporters will feel appreciated and eager to continue their relationship with your business.
No matter what type of business you own, or the nonprofit organization you run, your thank you video will be a valuable reminder of your gratitude.
Here's how you can get started creating your own thank you video:
Sending a simple, no-strings-attached video to thank you is compelling enough on its own. But it's also okay to use your video as an opportunity to drop in a compelling call to action.
Decide where to host your video.
Where you host, your video depends on how you want to reach your audience. If you're planning on sending the video in an email or embedding it on your website.
Thank you videos are optional opportunities for you to explain the perks to your audience or to express gratitude for their support. They can be completed during your onboarding process.
Requirements for Thank you videos
Record the video vertically at a minimum resolution of 720 px

Promotional videos should be 60-90 seconds long.

Thank you videos

should be no longer than 30 seconds.
With these tips and resources, you should be able to create videos and a marketing campaign to drive sales and boost your brand this season.
Ready to Level Up Your Social Media Game? Discover the Ultimate Video Software Club and Start Creating Engaging Social Media Videos Today! Explore Your Options Now and Unleash Your Creativity.